According to many recent studies, including Microsoft Research, multi-monitor systems as well as larger monitors improve user productivity by 10 to 50%. However the growth in multi-monitor adoption along with large screen displays is impacted by several factors:
Cost of acquisition of additional hardware (monitors and updated video boards)
The desktop space required for placement of additional or larger monitors
Application compatibility when most applications are not designed to work with an increased size of the screen real-estate
Power consumption and thus additional cost
Virtual Display Manager supplements your existing single or multi-monitor system with the convenience of additional virtual displays that can subdivide existing physical screens, while using existing hardware along with the ability of invoking different monitor configurations at the click of a button.
VDM's Virtual Display Technology provides the look and feel of physical monitors and requires minimal if any retraining of the end user.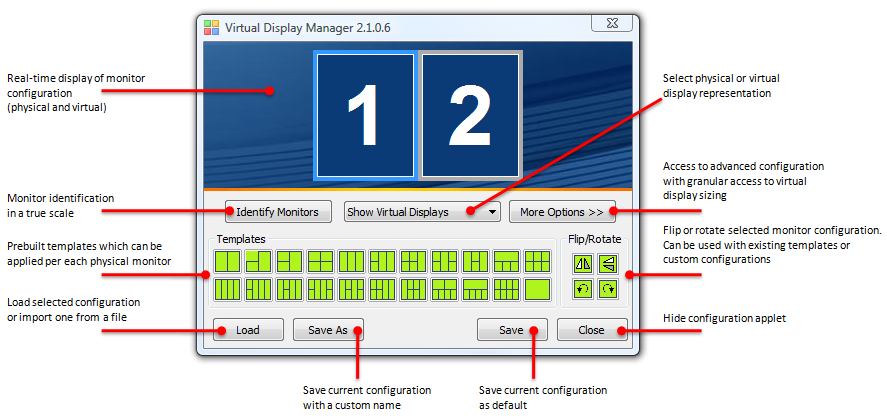 SAMPLE TEMPLATE CONFIGURATIONS AVAILABLE ALONG WITH CUSTOM CONFIGURATIONS
Note that monitors of different heights are supported, which is common for 2 monitor configuration in a laptop scenario.
Features
Works with any number of physical monitors and is configurable per physical monitor.
Can split each physical monitor into up to 16 individual Virtual Displays.
Virtual Displays can be evenly sized or individually scaled to fit user's requirements, i.e. evenly spaced layouts and asymmetrical configurations are supported. This is important when monitors of different sizes and aspect ratios are involved.
Supports local logins and remote connections – Microsoft RDP and Citrix ICA sessions, VNC and Radmin, are just a few examples.
Allows for switching between local and remote logins without loss in system window configuration and placement, which is independent from the monitor count or size.
Provides for icon placement control when changing to different monitor geometry or configuration.
Benefits
Increase productivity.
Lower your operating costs.
Maximize efficiency of your Desktop real-estate.
Add multi-monitor support with the thin-client and VDI applications.
Use your computer locally or on the go without termination of your applications due to screen changes and/or remote connectivity.
Supplement large monitors or advanced video hardware with one-click configuration simplicity.