Please note that VDM is supported on Windows 10/11 and Windows Server 2012/2012R2, 2016, 2019 and 2022. Evaluations can be downloaded
here
.
Licensing
Virtual Display Manager is offered with two distinct licenses. CL – Console License, and MUL – Multi User License. These licenses are perpetual, aka "licenses never expire". Optional annual support/update subscription is available and is complimentary for the first year.
CL license is a good fit for most users:
Targets Windows 10 and 11, i.e workstation class OS desktops.
Allows for console access via RDS sessions to Windows Server 2012/2012R2, 2016, 2019, 2022.
Supports direct console connections as well as remote sessions via RDS, ICA and VNC.
License is issued per Computer name, user count is unlimited.
MUL license is a cost-effective alternative for multi-user systems:
Targets multi-user deployments with Windows RDS Hosing (former Terminal Services) and Citrix Applicaions ("XenApp").
In addition to console access via RDS, ICA and VNC offers support for non-console sessions.
License is issued per Computer name, user count is unlimited.
Computer Names
While using licensed products from this site, computer name is required. Here are some options how to get accurate computer name (including UNICODE computer names) needed for licensing.
Option 1:
Open command prompt on your computer screen by running "cmd.exe". Once in the command prompt window type "hostname" command and hit Enter on your keyboard. Your computer name will be displayed right below. Here is an example were computer name is "WIN81EN":

Option 2:
Select product of interest and download license utility VDLLIC.exe.
Make sure VDLLIC for correct product (VDM, VTM or iShadow Desktop) is used!
No installation would be required. Run VDLLIC.exe – the first window will show computer name – write it down and close the tool by clicking on Cancel. Product name will be shown in the utility caption. Here is a sample screen for computer name "WIN81EN" while running VDM version of VDLLIC.exe: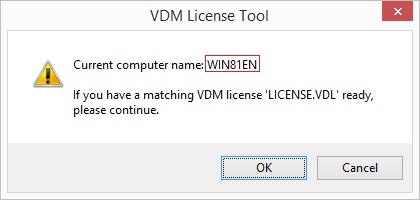 Other options:
There are other options as well, for example open computer properties screen: