According to many recent studies, including Microsoft Research, multi-monitor systems as well as larger monitors improve user productivity by 10 to 50%. However, the growth in multi-monitor adoption along with large screen displays is impacted by several factors:
Cost of acquisition of additional hardware (monitors and updated video boards).
The Desktop space required for placement of additional or larger monitors.
Power consumption and associated power and cooling costs.
Legacy application compatibility with significant changes with desktop geometry.
Virtual Display Manager supplements your existing single or multi-monitor system with the convenience of additional virtual displays that can subdivide existing physical screens. Flexible configuration options provide access to different monitor configurations at the click of a button.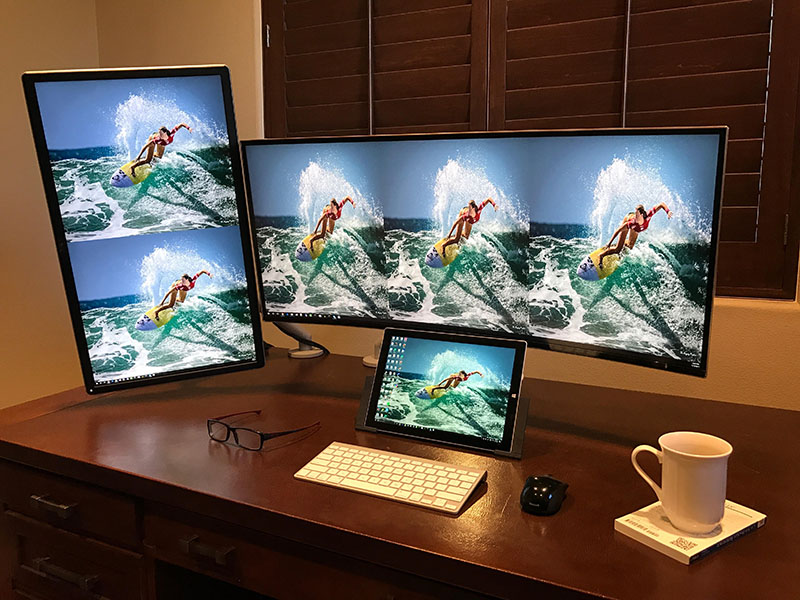 Fig. 1. Virtual Display Manager supports single as well as multiple monitors with a variety of configurations available
VDM's Virtual Display Technology provides the look and feel of physical monitors and requires minimal if any retraining of the end user.
Features
Supports local desktops and remote connections, including popular VDI choices from VMware, Microsoft and Citrix.
Works with any number of physical monitors and is configurable per physical monitor.
Can split each physical monitor from 2 to 16 individual Virtual Displays.
Virtual Displays can be evenly sized or individually scaled to fit user's requirements, i.e. evenly spaced layouts and asymmetrical configurations are supported. This is important when monitors of different sizes and aspect ratios are involved.
Allows for switching between local and remote logins without loss in system window configuration and placement, which is independent from the monitor count or size.
Supports 16-bit, 32-bit and 64-bit applications on x86 and x64 platforms (depending on OS compatibility).
Benefits
Increase productivity.
Lower your operating costs.
Maximize efficiency of your Desktop real-estate.
Add multi-monitor support with the thin-client and VDI applications.
Use your computer locally or on the go without termination of your applications due to screen changes and/or remote connectivity.
Supplement large monitors or advanced video hardware with one-click configuration simplicity.
Virtual Display Manager will make your desktop life easier!
When enabled VDM intercepts events related to window sizing as well as system events such as login, disconnect and display change. VDM is attempting to model physical monitor behavior and sets window maximize position based on window proximity to the virtual display areas configured by VDM. Once maximized, a window, as in the case of regular monitors, cannot be moved unless it is switched back to the normal state.
VDM works not only with common Windows desktop but with remote sessions delivered via Citrix, VMware or Microsoft VDI.
Virtual Display Manager is useful in many scenarios
If used with multiple local monitors when connecting to remote system in a "span" mode it provides multi-monitor functionality otherwise missing within full screen remote session. Popular remote connectivity protocols such as Microsoft RDP and Citrix ICA are supported, as well as many other remote connectivity applications like Radmin and VNC.
In case there is only one physical monitor, VDM can be used to "split" that single monitor into multiple Virtual Displays, thus improving desktop utilization. Example: you can split your screen into two and have Excel maximized to one side of the screen and Outlook to another and unlike tiled windows VDM provides you with truly maximized window state and thus windows cannot be moved until you change their state to normal.
New high resolution monitors can benefit from VDM as well, since most applications are not designed to handle such vast "real estate" available with large monitors. Thus screen partitioning into Virtual Displays can improve user productivity and reduce clutter.
VDM is very flexible in environments where a large number of monitors is desired: Trading stations,
Network Operation Centers, etc.
VDM addresses switching between local and remote logins when the number of physical monitors and their pixel sizing can change. VDM automatically maintains correct maximized size and state, window relative to monitor sizing and position while preserving icon positioning.
Compliments VDI implementations, for example Citrix XenApp/XenDesktop and VMware View, by providing flexible monitor configuration without session reconnection as well as adding support for missing functionality, for example 16-bit application support.
Please note that VDM is supported on Windows 10/11 and Windows Server 2012/2012R2, 2016, 2019 and 2022. Evaluations can be downloaded
here
.