Configuration
Once installation is complete, iShadow Desktop is ready to access remote systems which can be accomplished via connection dialog analogous to familiar interface provided by Microsoft RDP client "mstsc.exe". Computer name with optional authentication and connection configuration adjustments is all you need to launch ICA, RDP or VNC client connection supported by iShadow Desktop. This dialog screen can be enable to load by default when starting iShadow Desktop. This feature can be disabled via [View]-[No Connection Dialog on Load] menu.
iShadow Desktop is capable of displaying active sessions via traditional "MDI View", via "Tabbed View" (default). These different modes can be switched via [View]-[Select View] menu.
Right-clicking on the session Tab or Caption (when in MDI view) provides quick way of adding connection to the list of Favorite Shortcut. Both user credentials and connection configuration settings are preserved. The same can be accomplished by clicking "Add" menu in the Favorites window.
It is recommended to configure the Favorite shortcuts section if iShadow Desktop interface to provide quick and easy access to commonly accessed systems. List of available Favorite Shortcuts can be displayed by pressing [Ctrl+I] key combination or via [Favorites]-[Show Favorites] menu. This screen can be undocked, moved to another side of the screen, minimized or hidden.
Organizing Favorites
Favorites can be organized and edited via "Edit Favorites" window accessible in a variety of ways:
By clicking on [Organize]-[Edit Favorites] in Favorites window tool bar
Via [Favorites]-[Organize]-[Edit Favorites] menu from the main tool bar
Right-clicking on selected shortcut in Favorites tree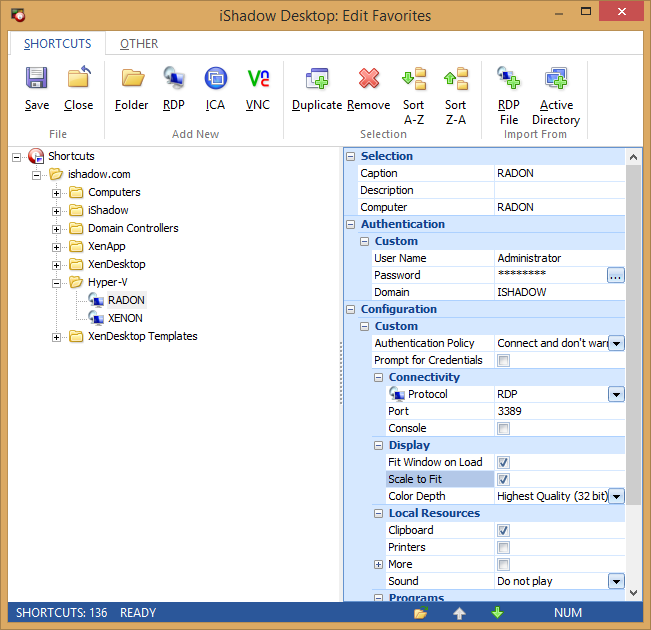 Fig. 1. "Edit Favorites" window.
Via the tool bar you can:
Add new folders
Create, edit, duplicate or remove shortcuts
Rearrange Favorites by dragging selected tree node to the desired position
Import connection settings from existing *.RDP files created with Microsoft MSTSC.EXE client.
Import computer names from Active Directory with or without OU structure
Change passwords for selected user throughout all shortcuts
Status bar provides:
Total shortcut count
Folder selector where selected shortcuts should be moved
Ability to move existing shortcuts up or down within shortcut hierarchy
Note that to avoid confusion, shortcut names are required to be unique to the parent folder.
Backup and Restore
There are several situations when Favorites should be saved to iShadow Desktop configuration backup "*.TEK" file:

Favorites to be prepared for import by another user
Favorites are to be archived for backup purposes independent from original user identity
This process can be executed via [Organize]-[Save to File] menu found under the tool bar of the Favorites window or via [Favorites]-[Organize]-[Save to File] menu at the main tool bar.
When exporting Favorites a special export PIN (6 characters or more) will be required. This export PIN is not user specific and is independent from an optional configuration PIN found with iShadow Desktop configuration "*.TEC" file.